COBA Academy Cosmetology School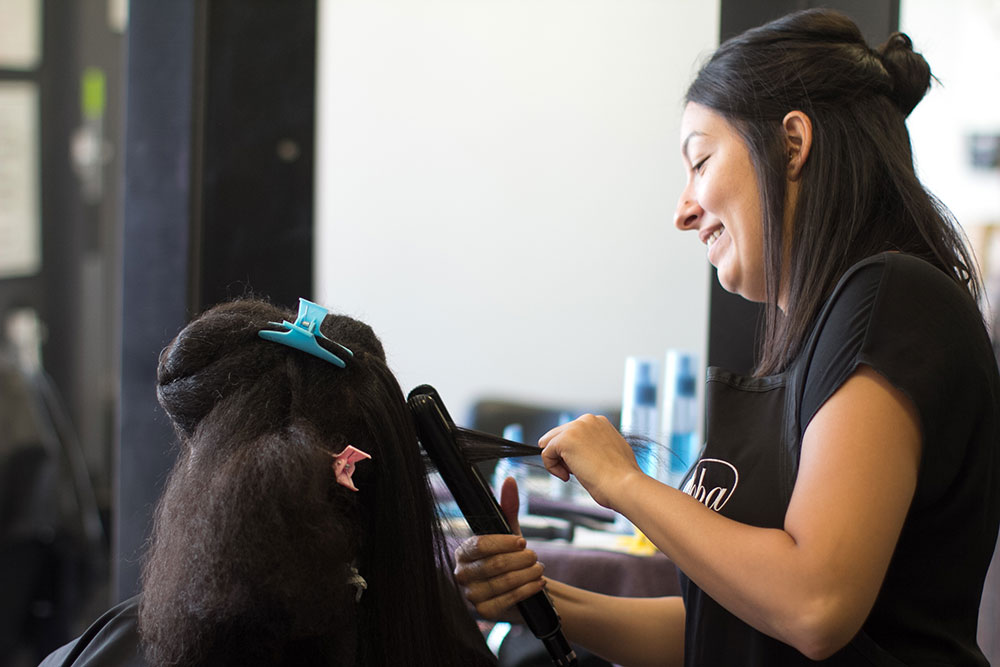 Prepare for an exciting career as a licensed cosmetologist.  The course is 1600 clock hours in length, which can be completed in as little as ten months of full-time attendance.  At the beginning, approximately 400 hours of the course time is devoted to technical instruction, which consists of various learning activities in a classroom situation. Students learn the fundamentals of Hair cutting, Hair Color Theory, Hairstyling, Manicuring, Make-up, Skincare and Disinfection.
Once the student completes the basics in the "freshman room" they graduate to the client floor where the balance of the course time is devoted to practical operations, in which they develop and practice cosmetology skills under the supervision of licensed instructors in actual working conditions.
Our "student salon" affords students real world learning on actual clientele.  The regular client base here at the academy has been enjoying services by students for over 50 years, where they get professional results from our use of Goldwell professional haircolor and KMS hair products.
After completing the cosmetology program at Coba Academy, you'll be qualified and equipped to pass the California State Board licensing examination and become a licensed cosmetologist ready to start a career in the beauty industry.
For more information including class schedules, tuition and how you can visit, please call or text:  714-497-9736.  We look forward to helping you launch your beauty career!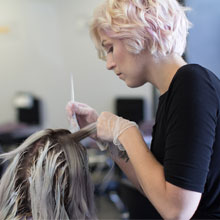 Advanced Color Techniques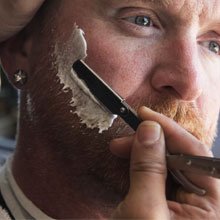 Licensed Barbering Courses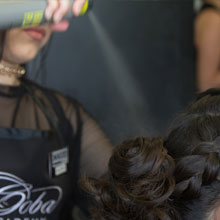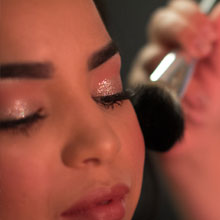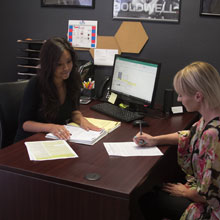 Training and Business Skills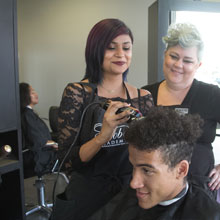 At Coba Academy our cosmetology course instructors continually strive to train and prepare students for a career in the beauty industry. Introducing the latest techniques for hair styling into the curriculum enhances our students training and gives them a competitive edge when seeking employment.
Coba Academy of Cosmetology in Orange County believes in teaching the material necessary to pass the state board exam and also believes in keeping up with the ever changing beauty industry. Call (714) 497-9736 or email us today and learn more about the cosmetology program.
Why Choose COBA Academy's Cosmetology Course
Sifting through the thousands of cosmetology schools available today can be time-consuming and aggravating. It's important to choose a school that's right for your personal goals. With cosmetology programs taking anywhere from 8 months to 2 years it's in your best interest to keep time in mind and plan accordingly for your future.
Coba Academy's full course cosmetology program is a 1600 hour course and can be completed in as little as 10 months of full-time attendance. Students should apply and enroll the week prior to their desired start date. Our efficient start-to-end process makes it easy for students to plan their future and begin school while they're still excited to do so. Our program is shorter than most, so that our students can begin gaining real world experience in the salon sooner and find the job they desire easier.
Don't get trapped in an unaccredited school. You'll find that many of the cosmetology schools offered are not accredited. This means you'll be forced to spend extra time and money just to need to enroll in an accredited school later to obtain your license. Coba is accredited by NACCAS, and walks their students through the entire process of applying for their license and finding their first job. But before their students even begin their education, Coba makes sure that each student has the means to do so, by guiding them through the financial aid process. Coba really does walk with their students from the moment they decide to apply all the way through to their successful graduation.
Coba Cosmetology Academy has been successfully training students in the beauty industry for 50 years. They know what they're doing and they know how to produce top of the line beauty professionals. They pride themselves on their small class sizes, and hire only leading industry professionals to teach their students. They believe that to be the best you need to learn from the best, so that is exactly what they provide to their students.
As a student you'll gain hands-on client experience, and confidently care for clients with an experienced instructor by your side. You'll gain the tools and knowledge pertinent to being successful in the beauty industry as well as training and expertise that goes well beyond the State License requirements. COBA keeps up with all the latest trends and techniques necessary to prepare students for work in a salon, their curriculum provides students with a competitive edge when seeking employment. Your success is our success and we're excited to assist you on your journey.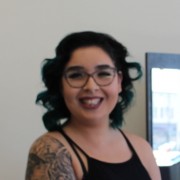 Being at Coba was an amazing experience. The directors are very welcoming and give you all the information you need. The instructors are amazing as well and are very hands-on and up to date with every technique. I'm very happy I chose Coba as my school.

Being a student at Coba Cosmetology Academy gives me great satisfaction knowing I am apart of a team who take extreme pride in their craft. Seeing myself progress has been very rewarding and keeps me looking forward to my career in cosmetology.

Attending Coba Cosmetology Academy makes me feel proud for choosing to become a cosmetologist. The instructors help us each day by sharing their skills & love for the beauty industry with us.

Enrolling in Coba Cosmetology Academy has been the best decision I've made. It's been a fun filled experience with great people and a great learning environment. The staff is supportive and extremely helpful. I have enjoyed every task I have done and I have many new friends that will be life long.