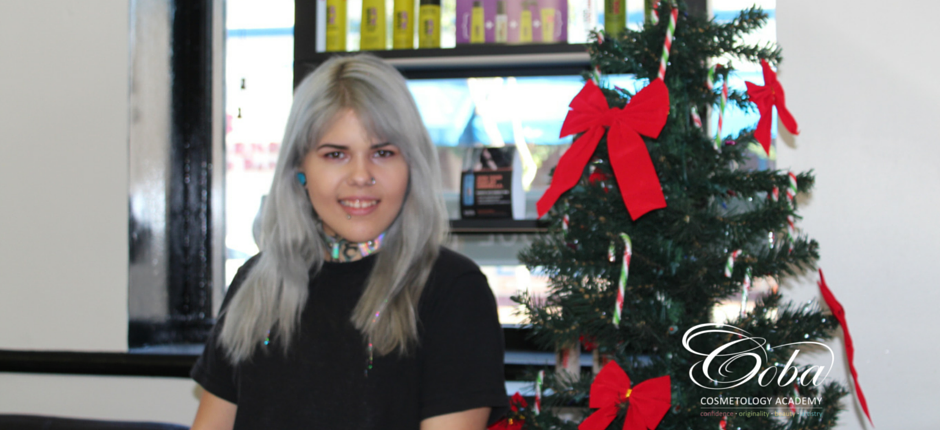 Today's Spotlight is on Imara. She's loving how she can express her creativity here at Coba.
Imara spreads the cheer with her jolly nail design. Check it out!
What do you like best about Coba?
The people. Honestly the teachers are really great. My first day here Ms. Gina, we were in theory, and I was haircutting that week and to demonstrate haircutting she pulled out her scissors and cut her own hair in front of all of us! She just started chopping away and I just remember sitting there thinking, this is a school I can learn from. Anyone that's crazy enough to do that is going to be a good instructor… laughs.
What advice can you share with prospective students that are thinking about going into the beauty industry?
Go for it, don't hold back. If you're thinking it and kind of questioning it saying, oh maybe I'll do this it's not a good outlet though, just honestly have it on the back burner. I mean it's a tax write off for any of the beauty products you're already buying. It's- you know- 10-12 months out of the year and it goes by so fast with so many good people. It's more of a salon feeling than a typical cosmo school, I've really noticed since transferring from another place. You learn a lot more and it's not that really strict cookie cutter, you get to show your personality and really express it.
Lastly, where do you see yourself in five years?
Owning my own salon! I plan on being either in Portland or Vegas and opening up my own place and doing a high end luxury salon. I want a full bar … laughs… I want to go all out!